this website is a work in progress, more soon
2008 News:
Fireworks Gallery Christmas Exhibition, November 19 until December 24 2008. image (left): I am what I YAM 2008, (Triptych, Digital Prints on Photographic Paper) along with Michael Nelson Jagamarras' yam series : installation view
preselected for the inaugral Western Australian Indigenous Art Award at the Art Gallery of Western Australia, November 1 until January 11 2009. Nominated by Fireworks Gallery. image: other[wize] fires 2006
les autres / the others is the touring exhibition of the other APT to be featured at the Centre Culturel Tjibaou in Noumea, New Caledonia, opening October 28, 2008 until February 8, 2009. supported by Arts Queensland image: Native All Stars
Cube 625 at 24hr Art NT Centre for Contemporary Art, Darwin, October 24 until November 15, 2008. image: not made for this world 2008 (detail)
preselected to screen in the experimental category at imagineNATIVE Media Arts & Film Festival, Toronto, Canada, October 15 ~ 19, 2008
attended the art at the heart conference in Alice Springs, Northern Territory with support from Arts NT
'Hand in Hand' Touring exhibition at Plimsoll Gallery, Tasmania, September 12 until October 3 2008, image: 'ceremony'
The Creative Cell of Life ~ with Christine Christophersen and Kathy Arbon, Darwin Festival, Darwin Entertainment Centre Gallery, opens August 16, 5pm. image: Cells Views
Big Eye ~ a selection of Aboriginal Animations screening at 24hr Art Northern Territory Centre for Contemporary Art, Darwin, NT, opens August 16, midday. Darwin Festival
Highly Commended at the National Telstra Aboriginal & Torres Strait Islander Art Award, Museum & Art Gallery of NT, Darwin. August 15. image: name that movie (re edit)
featured artist for the colourise BIFF seminar August 3
'the other APT' selected for inclusion in the Biennale of Sydneys revolutions online venue. Artistic Director, Carolyn Christov-Bakargiev, has included projects based on her exhibition theme Revolutions – Forms That Turn. June 18 til 7 September
Blue a group exhibition at Fire Works Gallery, Brisbane, June 18 til August 2. Image: Theres no place like Home 2008
name that movie exhibition in the Lismore Contemporary Artspace @ Lismore Gallery NSW, June 13 til July 12
Future Films at 01SJ a global festival of art on the edge, 2nd Biennial @ San Jose, California
Screening at the Toi Whakaata Multimedia Space at the Wairoa Festival, Matariki ~ Queens Birthday Weekend May 29 til June 2, in Wairoa, Aotearoa & touring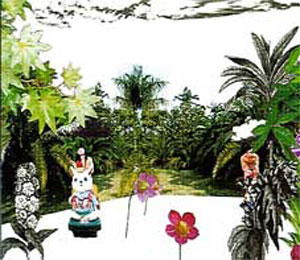 VT2 (Vernacular Terrain) International Tour to launch @ QUT Brisbane, May 1 ~ 24, by International Digital Art Projects image: by Meiya Lin
screening at Coolamon, April 21 til May 25, Brisbane City Library
Overall Winner ~ Gold Coast Indigenous Art & Design Award (and New Media Category Winner). opened April 14 @ GCCC, above image: by Adam Browning
'Hand in Hand' at Boomalli Aboriginal Artists Cooperative & the Performance Space, Sydney until March 15 2008, image: 'ceremony'
Festival de découverte de la, culture contemporaine aborigène in Avignon, France, February 26 til 29, 2008
'in the mean time' toured to the Neue Gallery, Dachau, Germany, opened 24th January 2008, until 9th March 2008
'La Revanche des Genres: Art Contemprain Australien' touring to France at La Cité Internationale des Arts, Paris, 9th January until 3rd February. Curated by Geraldine Le Roux. http://www.diffart-pacific.com
artwork featured at Sugarbag Gallery @ Woodford Folk Festival '07 / '08.