this website is a work in progress, more soon
2009 News:
* new webaddress for cyberTribe: http://www.cybertribe.culture2.org
Rights on Show 15th Anniversary Exhibition, coinciding with the United Nations International Human Rights Day. Opens December 10, 2009 at the Northern Territory Supreme Court, Darwin. Image: Name that Movie (detail)
the other APT launching online December 1, 2009. image: 'Enemy' 2008
immemorial: reaching back beyond memory an exchange exhibition at ican and roommate galleries in Jogjakarta, Indonesia; opened November 14 2009. image: 'Cowboy Indians' 2009, Video Installation
Sculpture and Works on Paper, exhibition at FireWorks Gallery, opened October 28, image: 'Theres no place like home; Bonye Bonye'
screening at imagineNATIVE Film & Media Arts Festival, Toronto, Canada, October 14 -18
Participating in Strand Ephemera, Townsville, September, 2009
Screening @ Night Light, Festival of Cairns, August & September.
Cairns Indigenous Art Fair, Far North Queensland, Represented by Fireworks Gallery and the Canopy ArtSpace, August 20 - 22
participating in the Creative Industries Forum at Garma Festival, Yirrkala, NT, August
included in the 2010 Queensland Indigenous Art Diary. Launched August 2009, Cairns
participating in Splendid : ideas lab, as a Provocoteur : ) Byron Bay & Lismore, July
participating in the onedge festival July 3 - 18, Cairns
'Depth of Field' Young Indigenous Photographers from Palm Island and Townsville; & 'Big Eye' Tour at Pinnacles Gallery, Townsville, June/July
name that movie screening in the Darkroom exhibition space at the Gold Coast City Art Gallery, celebrating NAIDOC week, June 13 - July 16
me and my toyota : an exhibition of images and stories celebrating Toyota's 50th Anniversary in Australia, Toyota Community Spirit Gallery, June 16 - September 24
artist-in-residence with the reach program, FNQ, june
preselected for the ignition film festival, may, sunshine coast
TAKE 40: THE GILES PETERSEN COLLECTION @ Fresh Gallery, Otara, Auckland Aotearoa New Zealand, April 17 - 9 May
Big Eye ~ Aboriginal Animations : touring to QUT Cultural Precinct, to include Canadian works alongside Australian works. April 27 - May 30 2009 along with a drop-in animation lab
HeartLand : presented by HOPE4HEALTH and Specialist Connect. At Specialist Connect Medical Centre, Woolloongabba, Brisbane. Opens April 3rd, 6pm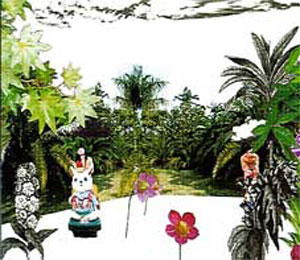 VT2 (Vernacular Terrain) International & Regional Galleries Tour featuring @ Pinnacles Gallery, Townsville, March 21 ~ May 3, toured by International Digital Art Projects & QUT image: by Meiya Lin
'STILL BLACK' at Boomalli Aboriginal Artists Cooperative, Sydney, February 20 - March 15 2009, image: 'I yam what I YAM' 08 / 09 Triptych, Digital Prints on Canvas
Preselected: Wilson HTM National Art Prize to be exhibited at Jan Murphy Gallery, Brisbane, 4 - 14 February. image: 'I yam what I YAM' 08 / 09 Video. Click to see the finalists
participating in the Yarning Up 2 Writing Workshop by TEABBA February